A project of Franklin Delano Roosevelt's New Deal, the Civilian Conservation Corps was formed in 1933. Originally known as the Emergency Conservation Work program, the CCC was created to provide jobs to young men from all over the country who were fluent in masonry, engineering, architecture, landscaping or in many cases just hard work, so that they may combine efforts in order to complete many projects throughout the nation, many with a focus on Conservation.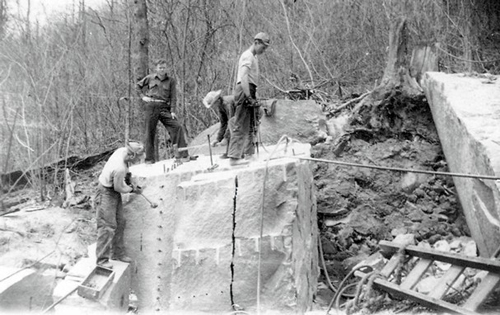 Photo courtesy of Great Smoky Mountains National Park Library

Natural areas all over the country as well as the Smokies were in need of strong hands that were willing to do hard work towards conservation and in many places restoration. In the years of the early 30s, during the height of the Depression, there were many young men that fit these criteria.

In May 1933, just over a month after the program is approved by Congress, 5 camps of 200 men each are established in the Smokies. By July of 1934 park Superintendent J. Ross Eakin claims that the Smokies boasts more CCC camps than all of the other National Park areas combined.

Whether this statement is completely factual or not, what is undeniable is the amount of work that was done by the men in the 23 established CCC camps over the span of the program. CCC enrollees built hundreds of miles of roads and hiking trails, bridges, administrative buildings and fire towers, campgrounds and the Rockefeller Monument at Newfound gap. Along with building these new things the CCC also planted trees, fought wildfires, rebuilt and renovated historic structures, and restocked park streams with trout (although some were non-native).

Although the CCC program came to an end not long after the US entered WWII, the presence of the CCC workers still lingers in this place. Over 9 million visitors a year witness the work of the CCC each year when they drive past the Headquarters Building or ask for directions at the Oconaluftee Visitor Center, drive to Newfound Gap and have their picture taken on the Rockefeller Memorial. They see it when they take a hike to Mt. Cammerer Fire Tower, have a picnic at the Chimneys Picnic Area or spend the night at Smokemont campground. The CCC marked this land for the better and gave this park a jumpstart toward the future helping to make it what it is today.