Cataloochee Campground

Cataloochee Campground is located close to Waynesville, NC and offers group tent camping; non-electric.

Make reservations online during summer or fall or call 877-444-6777, toll free.
Map & Directions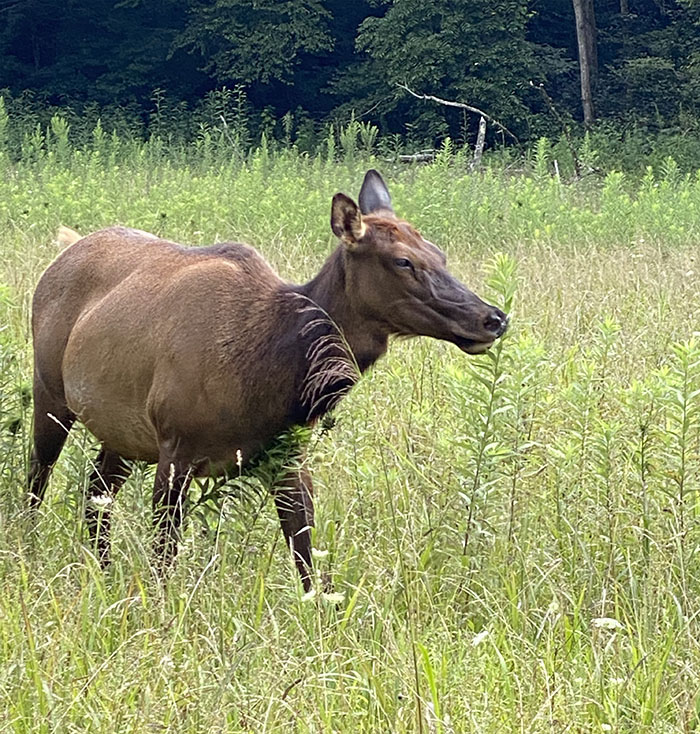 Camping at Cataloochee Campground requires reservations.
Number of Camp Sites (tent only): 27
Cost per night: $25.00
Camping Policies
|
Other Campgrounds
The campground is open April 15 - October 30
There is no landline phone service and no regularly-assigned staff assigned at the campground. Some cell phones work here, depending on your provider. The Cataloochee Campground is too small to have regularly-assigned staff on-site to collect fees, so reservations must be made in advance by phone or on-line.
Open mid-March through mid-October.
Cataloochee is a primitive campground. Tent or RVs up to 31 feet. Group camping is available.
Cataloochee Valley is nestled among some of the most rugged mountains in the southeastern United States. Surrounded by 6000-foot peaks, this isolated valley was the largest and most prosperous settlement in what is now the Great Smoky Mountains National Park. Once known for its farms and orchards, today Cataloochee is one of the most picturesque areas of the park.
There are no hook-ups at any park campground. There is no potable water at this campground.
Quiet hours are in effect from 10 PM to 6 AM. Generator use is prohibited in group camps.
Fires are allowed in fire rings only.
Group site limits are site specific and range from 15-30 people depending on the campground. The park stay limit is 14 consecutive days. Reservations which exceed the 14 consecutive day limit be cancelled and refunded.
Cataloochee Valley
is an historic area of the National Park, and you will see elk grazing in the fields.
Mailing Address:
Cataloochee Group Camp (NC)
3576 Ranger Station Road
Waynesville NC 37876
Directions: The entrance road to Cataloochee Valley is a winding, gravel road that has some steep drop offs with no guard rails. The road is narrow, so drivers may be required to stop or back up their vehicles to allow oncoming motorists to pass. Horse trailer traffic may be encountered on the road. Please use caution when driving on this road.
The most direct route into the valley is to take Cove Creek Road. From interstate I-40, exit at North Carolina exit #20 and travel 0.2 miles on route 276. Turn right onto Cove Creek Road and follow the signs 11 miles into the Cataloochee Valley. Using this route, motorists will be traveling on a gravel road for approximately 20-30 minutes.
A more scenic route (not recommended for RVs) is to take a long winding road, route 32, from Cosby, TN to the Tennessee-North Carolina state border, where the road becomes gravel. It twists and winds into Cataloochee. (This route is not recommended if your passengers are prone to car sickness.) Using this route, motorists will be traveling on a gravel road for 45-60 minutes.
Mileage to Cataloochee:
from Gatlinburg – 65
from Cherokee – 39