Black bears inhabit all elevations of the park. The population density in the park is approximately one bear per square mile. At one time, the black bear's range included most of North America except the extreme west coast. Because of the loss of habitat, the black bears are now confined to wooded areas or dense brushland. There are between 500-600 bears in Great Smoky Mountains National Park.



2 Bedrooms, 2 Baths, Sleeps 4

Location: Downtown Gatlinburg (Walking distance to the Parkway near Light #2) This unique Gatlinburg log cabin is decorated with charming Smoky Bears decor. Built in the 1800s with native logs, this cabin is rich with history and charm. Located on the Little Pigeon River; it's one in a milllion location will satisfy your every desire for a fantastic Gatlinburg vacation! Fish off your back yard (local fishing licenses required) and/or take a short walk into downtown Gatlinburg!
All black bears in the park are black in color, but in other parts of the country they may be brown or cinnamon. Black bears may be six feet in length and up to three feet high at the shoulder. Females are generally smaller and weigh less than males. Bears weigh eight ounces at birth and can weigh 400 pounds or more as an adult.

The life span of a black bear is generally 8-12 years, though "nuisance" bears have a life expectancy of about half that time. Some park bears have lived to be over 20.

Interesting Facts About Black Bears:
• eat mostly berries, nuts, animal carrion, and insect larvae
• have color vision and keen sense of smell
• are good tree climbers
• swim very well
• can run up to 30 miles per hour

Bear Behavior:
During spring and summer, most activity takes place during early morning and late evening hours. Mating usually takes place in June. Both female and male bears may have more than one mate during the summer.

Bears choose a denning site with the coming of cold weather. Dens are usually hollow stumps, tree cavities, or wherever there is shelter. Bears in the Smokies are unusual in that they often den high up off the ground inside of standing hollow trees. They do not truly hibernate, but enter long periods of sleep. Bears may leave the den for short periods if disturbed or during brief warming trends.

One to five cubs are born during the mother's winter sleep. Females with newly born cubs usually emerge from their winter dens in late March or early April. Commonly born in pairs, the cubs will remain with the mother for about eighteen months or until she mates again. Mother bears are fiercely protective of their young. Sounds of aggression include growls, snorts, blows, and snapping of jaws.

The bear's keen sense of smell leads it to nuts and berries, but the animal is also enticed by human food left on a picnic table or offered from an outstretched hand. Feeding bears or allowing them access to human food causes a number of problems:

• It changes the bear's wild behavior and causes it to lose its instinctive fear of humans. This lack of fear causes nuisance bears to be more unpredictable and dangerous when they encounter humans.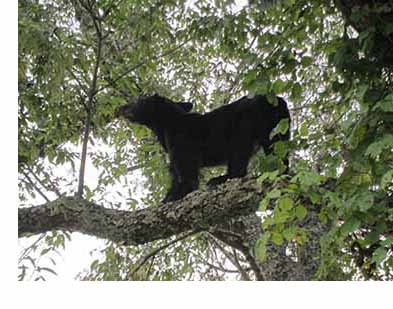 • Nuisance bears damage property and injure people. In 1993, 110 bear related incidents were recorded and extensive property damage occurred.

• It transforms wild and healthy bears into habitual beggars. Studies have shown that nuisance bears never live as long as wild bears. Many are hit by cars and become easy targets for poachers. Beggar bears may die from ingesting food packaging and aggressive nuisance bears must be destroyed y park managers.

For these reasons, National Park Rangers issue citations for improper food storage and feeding bears. These offenses can result in fines of up to $5,000 and jail sentences lasting up to six months. Visitors are urged to view all wildlife at a safe distance and never to leave food or garbage unattended.

In many cases, habitual nuisance bears must be trapped and relocated or destroyed. If the bears are moved soon after their roadside begging behavior starts, they have a better chance of returning to natural food foraging behavior. Until 1991, the park's management policy centered on live trapping problem bears and relocating them away from developed areas. Frequently, they returned and had to be trapped repeatedly or removed from the park entirely. Since 1991, wildlife managers have been experimenting with capturing, working-up and releasing nuisance bears back into the same area. The work-up involves tranquilizing the animal and performing a safe medical examination on the bear. While the procedure is harmless to the bear, it is apparently unpleasant and and re-instills their fear of humans. This approach allows bears to remain their home range, but they shy away from the developed areas.

In addition, bear-proof garbage cans have been replaced with larger bear-proof dumpsters in many areas of the park. Volunteers and park staff diligently patrol developed areas in the evenings to watch for bears and to clean up any trash that has been left out. Public education and law enforcement efforts have also been emphasized. So far, the results are encouraging as the number of bears relocated has been greatly reduced.

POACHING: Unfortunately, the lure of high profits on international markets encourages the poaching of black bears. Several cultures believe that bear gall bladders, paws, and claws have medicinal powers or consider them gourmet delicacies.

URBAN ENCROACHMENT. Community and private developments near park boundaries are causing a loss in habitat for bears. Once critical habitat is destroyed, major declines in bear populations are inevitable, especially during periodic shortages of mast and other bear foods.

Information provided by Great Smoky Mountains Natural History Association and Great Smoky Mountains National Park.

Feeding bears kills bears. Read about bear attack which occurred in May 2000.

Please do your part

At Rental Cabins, Chalets, Motels, Commercial Campgrounds, or Residential Areas:

1. Never leave unattended food or garbage outside.
2. Do not feed birds between April and November unless you use feeders that bears cannot reach and that have spill pans to prevent seeds from reaching the ground.
3. Do not leave pet food outside (especially overnight).
4. Bear-proof bee hives, compost piles, and gardens with electric or chain-link fence.
5. Do not leave food as bait for any animals or leave food scraps on the ground.
6. If a bear approaches, move your family and any food indoors immediately.

In Park Campgrounds and Picnic Areas:

1. Keep a clean site by properly disposing of:
•All garbage, including fruit rinds and cores
•Aluminum foil (even from grills) that has been used to cook or store food.
•Plastic wrap and bags that have stored food.
•Cans and jars that are empty.
2. Pick up food scraps around your site.
3. Never leave food or coolers unattended (unless inside a vehicle or hard-sided camper).
4. Wipe down table tops before vacating your site.
5. If a bear approaches your site, pack up your food and trash. If necessary, attempt to scare the animal away with loud shouts, by banging pans together, or even throwing rocks and sticks at it. If the bear is persistent, move away slowly to your vehicle or another secure area.

In the Park's Backcountry:

1. Hang food and anything with strong odors (toothpaste, bug repellent, soap, etc.) at least 10 feet off the ground and 4 feet from a tree or limb, or use special food storage boxes and cable systems available at some sites, or use bear-proof food canisters available for sale or rent at visitor centers in the park. These may be required at some sites. Check with the park backcountry office prior to your trip.
2. Do not cook or store food in or near your tent (food odors on tent or gear may attract a bear).
3. If a bear approaches, frighten it by yelling, banging pans together, or throwing rocks.
4. Pack out trash - don't bury it.