Biking in Great Smoky Mountains National Park
Biking in the Great Smoky Mountains offers breathtaking scenery and an opportunity to view wildlife more closely. There are several roads throughout the Park that are suitable for bicycling.

Bicycle rentals are available in Cades Cove; by the hour or by the day. Cades Cove loop road, an 11-mile one way road, is a popular bicycling area. It provides bicyclists with excellent opportunities for wildlife viewing and touring 19th century homesites. During summer and fall, bicycles may be rented at the Cades Cove store (located near Cades Cove Campground). For information call (865) 448-9034.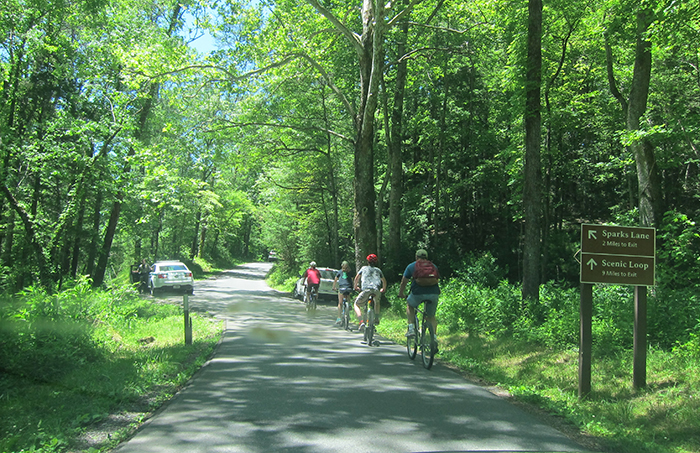 The loop road is closed to motor vehicle traffic on Wednesdays to allow bicyclists and pedestrians to enjoy the cove.
Other areas suitable for bicyclists include Greenbrier and Tremont roads in Tennessee, and
Lakeview Drive
, and
Cataloochee Valley
in North Carolina. Cyclists may also travel unfinished portions of the Foothills Parkway in Tennessee.
The Gatlinburg Trail, the Oconaluftee River Trail, and the lower Deep Creek Trail are the only park trails on which bicycles are allowed. Bicycles are prohibited on all other park trails.
The State of Tennessee requires that children age 16 and under wear a helmet.
Biking in the Great Smoky Mountains
is a popular activity. Biker ralleys in the nearby towns of North Carolina and Tennessee bring bikers into the National Park throughout the year. During those times, it is not uncommon to count more than 1,000 bikers riding Hwy 441 between Cherokee, NC to Gatlinburg, TN in a single hour. For your own safety and for the safety of others, please be respectful of speed limits throughout the park and do not cross double lines inside the park. Another popular biking path is
Tail of the Dragon
at Deals Gap, accessible from the Foothills Parkway West. Tail of the Dragon at Deals Gap has 318 curves in 11 miles and is America's number one motorcycle and sports car road.