Carriage Rides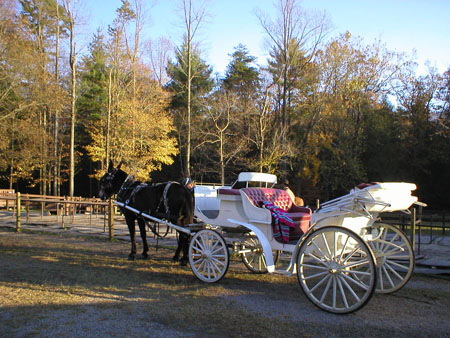 Carriage Rides in Cades Cove

Experience a horse-drawn carriage or wagon ride on a national park trail. Take a trip back in time where you can slow down, enjoy, and experience a 30 to 45 minutes picturesque horse-pulled carriage ride through the mountainous forest of Cades Cove. Knowledgeable carriage guides will entertain you with tales of the history of the area while showing and describing the native plant and animal life. Meet beautiful carriage horses and learn how things were done in days gone by.

Carriages rides depart continually throughout the day and have no weight or age limit. However, the carriage is limited to 6 passengers and that depends on the passenger's size. Due to the popularity of the Guided Carriage rides, reservations are not be accepted. All rides are subject to weather and trail conditions.

Please call (865) 448-9009 for more information or visit www.cadescovestables.com.