Elijah Oliver Cabin in Cades Cove

The Elijah Oliver Cabin is the most remote cabin in Cades Cove. It sits .50 miles from the main road in an area popular for black bears and deer.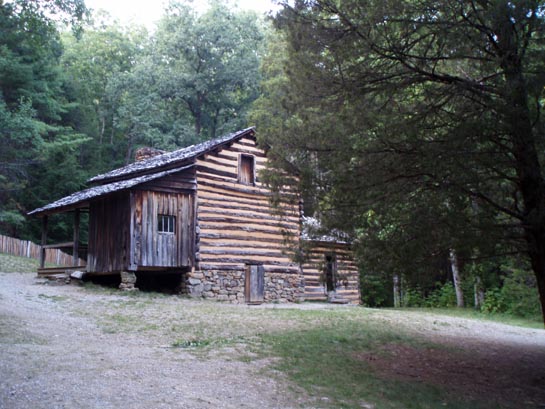 Built in 1866, Oliver's home is a handsome cabin. The spring house is one of the most interesting features and is the only one in the cove still intact on-site and accessible to the public. Spring houses were built over trickling springs to protect the family's water supply. It also served as refrigeration for milk, butter, eggs, and other perishables.

Elijah Oliver was deacon and clerk of the Primitive Baptist Church in Cades Cove for 37 years. He was also renowned as an excellent hunter who could average three to six deer in a good day. Venison was a favorite of the cove people; however, during the Civil War, gunpowder was so scarce that Oliver resorted to trapping squirrels and rabbits.

Cades Cove people were well known for their hospitality and neighborly kindness. Visiting was the order on Saturday and Sunday nights and folks would sit around sharing tall tales, jokes, puzzles, and proverbs.

Cove residents also made room for strangers. They framed in their porches to create little rooms for overnight guests traveling through. Elijah Oliver enclosed his front porch to serve as a "stranger room" or an "Elijah room" (named after the biblical prophet, not Oliver).
| | | |
| --- | --- | --- |
| | | |
| Elijah Oliver Barn is .25 miles from the cabin | | Corn Crib |
| | | |
| | | |
| Stables | | Left Side of Cabin |
| | | |
| | | |
| Side and Back | | Right Side of Cabin |