Henry Whitehead Cabin in Cades Cove

Matilda Shields Gregory likely felt down on her luck when her husband left her and their small son; however, romance took a fortuitous turn when she met Henry Whitehead, an industrious fellow who took courtship as seriously as carpentry. Family lore says he promised to build Matilda the finest log cabin in Cades Cove and most would agree he did. Matilda had been living in a crude cabin hastily built by her brothers. After she and Henry married, he built her a sawn log cabin so well constructed that people still mistake it for a simple frame house until they notice the jointed corners. Unusual in the Smokies, only two sawn log houses were known to exist, and only this one stands today.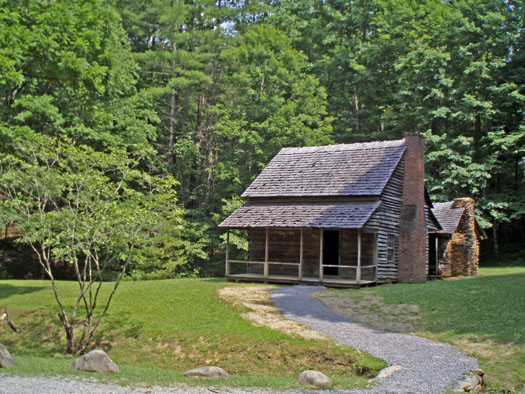 The walls are solid (four inches thick) and provide plenty of insulation. The weightiness of log buildings also offers a degree of sturdiness. In the late 1970s, a tornado in Cades Cove picked up a pine tree and dropped it on the similarly-constructed Whitehead smokehouse. The roof was crushed, but the log walls held steady. Whitehead built his house in front of the crude cabin so that the roof of the back porch provided a covered passageway between the two. Architecturally, it also serves as a link between what might be the finest and the toughest constructions in the Smokies.