Ogle Mill - Great Smoky Mountains National Park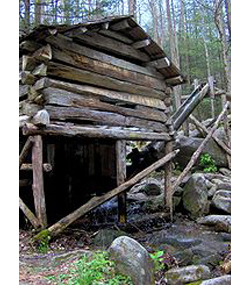 At the Noah "Bud" Ogle Place on Cherokee Orchard Road, a serene quarter-mile walk leads past the rock walls of a former pasture to the Ogle tub mill. Now hidden among trees next to LeConte Creek, the mill was part of the Ogle farmstead which included a house, barn, orchard, garden, and a "weaner" cabin for newlywed offspring.

At the other end of the spectrum from Reagan Mill, Noah Ogle's was a rough-cut tub mill built in the 1880s. Hollowed out logs serve as the flume and the eleven foot square mill building is a crib of hand split logs. The open spaces between the logs provided the only light shed on the small, 22 inch millstones.

Like most tub mill owners, Noah Ogle left the job of making and maintaining the stones to someone with specialized skills. It could take a local craftsman two to three days to dress a set of two millstones. If the mill was well used, the job had to be done annually. After turning the heavy stones, the craftsman had to true the faces then sharpen the grooves and lands (raised strips between grooves) with picks to ensure smooth milling.

As memories of mills fade, these historic places provide park visitors with an opportunity to see how earlier generations obtained meal and flour for their daily bread. The thumping of water against wheel, the rhythmic click of gears and whir of millstones can conjure a picture of mill day.

Picking up a package of bread at the store is thankfully convenient, but by detaching ourselves from our food, we have lost some things: the satisfaction of growing our own sustenance, the sense of community at the gristmll, and the mouth-watering unmatched smell of bread fresh from the oven. The gristmills of the Smokies remind us of this former and very visceral connection to our food, from seed to supper.

The mill was restored to its operational condition in the 1960s.


Driving Directions:
In downtown Gatlinburg turn onto Historic Nature Trail. Travel 2.2 miles to the entrance of Cherokee Orchard Road. This driving trail is a one-way road which runs for 8 miles.