Newfound Gap

Newfound Gap in Great Smoky Mountains National Park is the lowest drivable pass through the Great Smoky Mountains. Standing at an elevation of 5,048 feet. Newfound Gap captures the essence of the Smokies: like the Park, it lies half in Tennessee and half in North Carolina.


Newfound Gap provides wonderful mountain views atop this high ridge. Clothed in a mixture of spruce-fir and northern hardwood forests it supports a wide variety of plant and animal life. Millions of people drive through Newfound Gap annually.

Also at Newfound Gap is the Rockefeller Memorial. A two-tiered stone structure, this monument is a thank you to the Rockefeller family's $5 million donation to complete the Park's land acquisition. Without this generous gift, the dream of a Great Smoky Mountains National Park would remain unfulfilled.

It was at this spot in 1934 that President Roosevelt dedicated the National Park.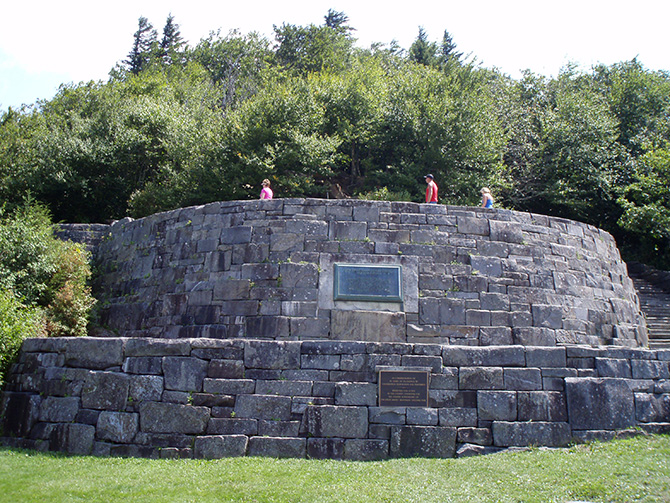 Newfound Gap - Rockefeller Memorial
Snow at Newfound Gap

Snow at Newfound Gap

Chimney Tops Trailhead


Rockefeller Memorial during the park's 75th anniversary celebration
View of Mountains from
Newfound Gap Road

View close to Newfound Gap

Newfound Gap Overlook



River on Newfound Gap Road

Newfound Gap's recognition as the lowest pass through the Smoky Mountains did not come until 1872. Arnold Henry Guyot, a Swiss geographer tenured at Princeton University, measured many Southern Appalachian elevations. Mt. Guyot, the second highest peak in the Smokies, takes his name. To get his data he used a simple barometer and air pressure changes. In most cases he was within 2-3% of current values. His work revealed Newfound Gap as the lowest pass through the mountains displacing nearby Indian Gap. A new road followed, and it became the forerunner of Newfound Gap Road.

The Appalachian Trail crosses Newfound Gap Road at Newfound Gap, and its old roadbed, abandoned in the early 1960s, provides additional walking opportunities.

Directions: From Gatlinburg enter the National Park at Sugarlands Visitor Center. Newfound Gap is 13 miles from Sugarlands on Hwy 441. From Cherokee, Newfound Gap is 18 miles.