Noah "Bud" Ogle
didn't let a land assessor's comment get in the way of making a living. He and his wife, Cindy, started out on a 400 acre farm in 1879 in the White Oak Flats community (now Gatlinburg) despite the assessor's belief that the land was "not fit for farming."
They lived temporarily in an older one-room cabin while they raised the lower half of the new house that now stands. As the family grew in number, a second section was added to create a traditional saddlebag configuration.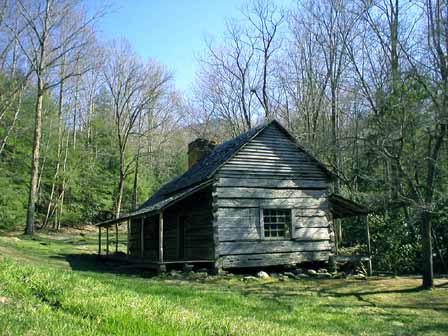 Efficiency was the operative of the mountain farmer and no amount of space was wasted. Outside the Ogle house, the chimney alcoves were used for storage. The front one held meat, salt and cornmeal while the back one sheltered chickens from foxes and other predators. There was also a box tacked up near the window of the lower pen that served as a hen's nest and gave the Ogles ready access to eggs.
Like many farms located on streams, the Ogles had a small grist mill for grinding corn into cornmeal. Neighbors sometimes used the mill in exchange for a one gallon per bushel toll. Widows and other "unfortunates" had their corn ground for free.
The Ogle home also had the unusual addition of running water. A wooden flume ran all the way from the spring above the house to the back porch. Here, the water dumped into a double sink, hewn from a single large log.