Festivals in Great Smoky Mountains National Park ...


Great Smoky Mountains National Park conducts several annual festivals throughout the Park. These festivals are open to the public and are free.
| | |
| --- | --- |
| Fall decor in Pigeon Forge | Fall decor in Gatlinburg |
Old Timers' Day is held in the Fall. One of the most unique areas in Great Smoky Mountains National Park, Cades Cove, an historic valley rich in pioneer culture as well as bountiful in wildlife, hosts Old Timers' Day and molasses making in September of each year. Former Cades Cove residents, their descendents, and others from surrounding areas take part in Old Timers Day. Storytelling and reminiscing are also featured during this informal affair. Visitors are welcome to join in and contribute stories of their own.
Old Timer's Day provides visitors an occasion to listen to the sounds of traditional mountain music.
The Cades Cove Loop Road opens at sunrise to motor vehicles, and Park Rangers are on site to coordinate event parking. Over 4,000 people attend this annual get-together.
The free event takes place in the Cable Mill Visitor Center area. Visitors are encouraged to stay all day and bring lawn chairs and a picnic lunch.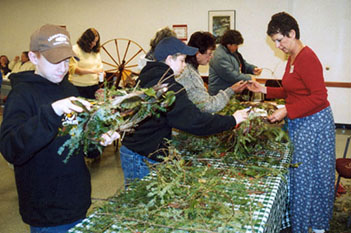 Festival of Christmas Past is held annually in December. This free event features a series of hands-on workshops, demonstrations, and musical entertainment and is made possible through the cooperative efforts of many Park friends, including the Smoky Mountains Historical Society and Great Smoky Mountains Natural History Association.
The festival provides an atmosphere of Christmas holiday cheer as many Park friends gather to share their reflections on mountain lifestyles through conversation, storytelling, music, and demonstrations of domestic arts and food preparation. It's a great opportunity for visitors to learn about mountain folk ways and how Christmas was celebrated in a traditional fashion.
The day's activities take place at the Sugarlands Visitor Center and the Sugarlands Training Room, the building adjacent to the visitor center.
In the Sugarlands Training Room several hands-on activities take place all day.
Artisans demonstrate basket making, spinning, and weaving, while others share their knowledge on woodworking and how homemade remedies, chores, and foods were traditionally prepared.
The Christmas craft table is always a favorite with youngsters and adults alike. Park volunteers will be on hand with the help of Vickie Law to lend their time teaching the art of making gifts and decorations from natural items and inexpensive materials already on hand. Participants can make their own decorations to take home with them.
In the Sugarlands Visitor Center auditorium, renowned storytellers begin the program with a few tales, bringing humor, history and holiday spirit to the event.
Performing throughout the day is a variety of musical entertainers with sounds of traditional gospel and mountain music and old fashioned Christmas hymns and carols.
Read more >>


Cosby Mountain Music is a series of "old-time" mountain music presentations at the Cosby Campground amphitheater on Saturday evenings during the summer. The series, entitled Cosby Mountain Music, is free to the public and involves performances on selected Saturdays in June, July, and August. Performances begin at 7:00 p.m. and last an hour and a half.

Bands play traditional songs and tunes, utilizing the fiddle, claw-hammer banjo, and guitar. Along with their playing, the band members will provide information on the origins of the songs and tunes of southern Appalachia.
Other bands feature performers on claw-hammer banjo and acoustic bass playing traditional music of the southern mountains. One of the goals of the band is to share their enthusiasm for mountain music through song and story, thereby promoting the cultural heritage of this part of southern Appalachia.
Both bands have produced CDs and regularly perform at many music venues in the region.
For directions to Cosby Campground, or for more information about these free performances, please contact the Sugarlands Visitor Center at 865-436-1291.


Cosby in the Park -- This annual festival is held at the Cosby Picnic Area and Amphitheater in Great Smoky Mountains National Park and features live entertainment, craft demonstrations, children's programs, history talks and guided hikes. Cosby in the Park highlights the splendid spring atmosphere and presents a glimpse into the past by paying tribute to a previous way of life. Spring time in the mountains was difficult, but strenuous chores eventually gave way to a time for relaxation, when residents passed time by making music. Local residents also celebrated their rich Scotch-Irish heritage through traditional song and dance. The day's events feature bluegrass performances. In addition, there are performances of traditional Cherokee music and dance as well as a performance by the Dogwood Dulcimers. Visitors are encouraged to bring a lunch and their own instruments and join in during the all day bluegrass "pickin' party." There are various craftspeople and musicians in attendance at Cosby in the Park.