Tremont
Great Smoky Mountains National Park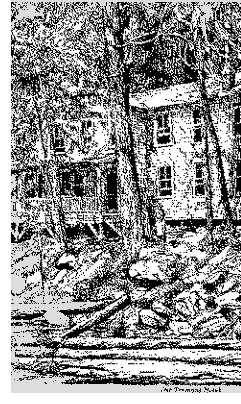 Tremont, established in 1927, is one of three company towns built by Little River Lumber Company to provide services to their logging workers. Throughout Turkey Flat in Tremont were scattered permanent and portable houses that were reached by a swinging bridge. The company operated a store. Men worked ten hours a day, six days a week and earned between 20 cents and 30 cents per hour.

In the early 1900s, two-thirds of what is now Great Smoky Mountains National Park was logged. Hundreds of loggers cut trees, and massive steams engines rushed logs to the sawmill at Townsend.

In 1901, Little River Lumber Company started buying land along the Little River. In 1903 they built a bandmill at Tuckaleechee and changed the name of the community to Townsend after the company's owner, W. B. Townsend.

Loaded flatcars were brought down from the mountains by gear-driven Shay steam locomotives. The cars were pulled onto sidings, awaiting arrival of the conventional rod or piston driven engines from Townsend.

The Tremont Hotel (right) was used to lodge loggers and their families on weekends.